Presentation of Transmission X
Reacting to Time —
Portuguese in Performance
Vânia Rovisco with Fernando Aguiar in collaboration with Bruno Humberto
APRIL 12 2017
MNAC — MUSEU NACIONAL DE ARTE CONTEMPORÂNEA

PARTICIPANTS: MÁRIO AFONSO, PEDRO CASTELLA, BRUNO HUMBERTO, TIAGO VIEIRA
WORKSHOP
Reacting to Time – Portuguese in Performance aims at actualizing the specific bodily memory of the first experiences of performance art in Portugal. Since 2014, Vânia Rovisco has been running workshops to transmit to participants a performance that has been transmitted to her by the artist who created the performance, such as
Identificatión
(1975) by Manoel Barbosa and
Il Faut Danser
(1985) by António Olaio.
At this new stage, Fernando Aguiar transmitted the performance
Expresiones y interaccion
(1997) to Vânia Rovisco (1st transmission) who, in turn, transmitted it to the artist Bruno Humberto (2nd transmission). With this knowledge, Humberto ran the workshop to transmit directly to the body of artists, students and researchers a part of the corporeal history of Portuguese performance art.
vaniarovisco.wordpress.com
WATCH THE VIDEO HERE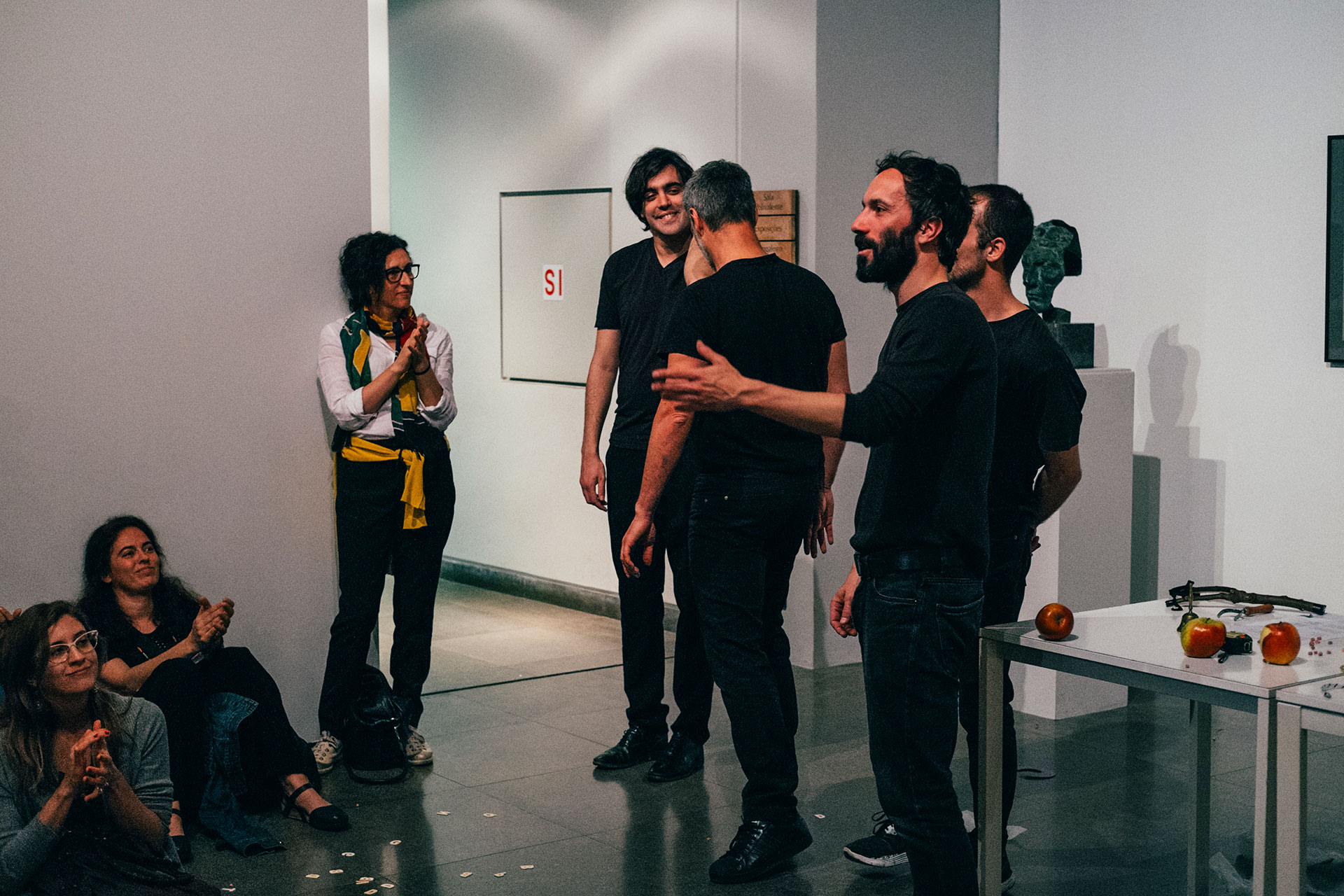 Photos Vitorino Coragem
The 100th anniversary of the futurist conference by Almada Negreiros and Santa Rita Pintor motivated Projecto P!, a critical theory and curatorial programme about how performance art assembles, recreates and participates in the public sphere.
Projecto P! took place in several venues in Lisbon on 10-14 April 2017 involving an international conference, a selection of performances and the publication of the book Performance na Esfera Pública (Orfeu Negro, 2017).
Curatorial Team:
Ana Pais
Levina Valentim
Pedro Rocha